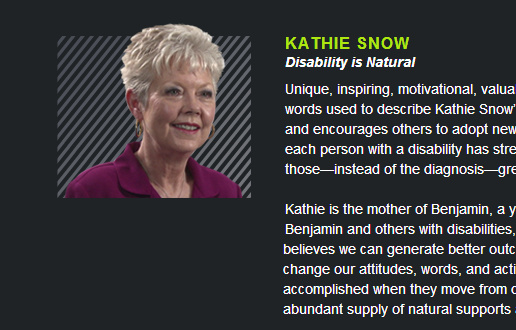 We are pleased to welcome Kathie Snow to the Open Future Learning family.
Unique, inspiring, motivational, valuable, provocative, life-changing. These are some of the words used to describe Kathie Snow's work. Snow challenges conventional wisdom and encourages others to adopt new ways of thinking about disability issues. She believes each person with a disability has strengths, gifts, and talents, and that when we focus on those-instead of the diagnosis-grea outcomes are possible!
Kathie Snow is the mother of Benjamin, a young man with disabilities. Snow has learned from Benjamin and other with disabilities, and now shares these extraordinary lessons.  Kathis believes we can generate better outcomes for children and adults with disabilities when we change our attitudes, words, and actions.  The inclusion of people with disabiliites can be be accomplished when they move from dependence on special services (client-hood) to the abundant supply of natural supports and generic service in their communities (citizenship).
Snow is enthusiastic, positive, and passionate about ensuring children and adults with disabilities live real lives, fully included at home, school, work and play.  The commonsense strategies she promotes can help turn this dream into reality.  Be ready for provocative questions, positive solutions, and innovative thinking, mixed with humor and real-life experiences.
Learn more about Kathie http://www.openfuturelearning.org/contributors.html#ksnow